Test-Drive a Used GMC Yukon for Sale in Omaha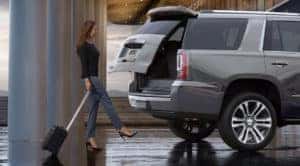 Find a used GMC Yukon for sale and a whole lot more here at Woodhouse Buick GMC in Omaha. Purchasing pre-owned is a great way to save money on the cars, trucks, and SUVs you love, while still taking home a vehicle that you can trust for every road trip and big build. Here are a few things you'll want to consider when test-driving a pre-owned car.
What to Look for in a Used GMC Yukon
There are many benefits to purchasing a pre-owned car, but you want to make sure it's the right pre-owned car for you. Here are some things to look for when test-driving your pre-owned GMC Yukon:
Stopping, Starting, and Steering: You always want to test out a vehicle's responsiveness on the road when it comes to how it turns, starts, and brakes. GMC Yukon models are large and capable, so you want to make sure it's running at full capacity.
Does It Have Any Damage? Damage isn't necessarily a dealbreaker, but it's always good to know before you buy. If you find anything amiss, just let your dealer know and we'll find a solution that works for you.
Look at the Tires: Tires can give us a lot of information about how a vehicle was driven and what the condition of the alignment and suspension might be. The GMC Yukon can tow a great deal, so it's important that these systems are working right.
What is the Interior Condition? The GMC Yukon can definitely tow and haul, but it's also equipped with comfort and luxury features that you won't want to miss. Test out entertainment and navigation systems to see what works for you.
When you're ready to find a used GMC Yukon of your own, make Woodhouse Buick GMC your first stop. Schedule a test drive today.