Make Your Tires Last Longer with Support from Woodhouse Buick GMC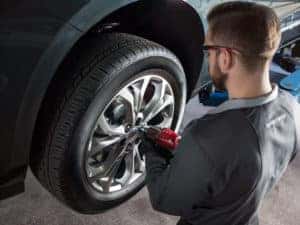 Next time you ask, "where's the best Buick service center near me?" come on down to Woodhouse Buick GMC in Omaha. From brakes to tires to batteries, we've seen it all, and we're here to share all we know about car care and service support. When it comes to taking care of your vehicle, a little service and care can make a big difference and getting the maintenance you need is easy here in Omaha.
How to Make Your Tires Last
Your tires are your first line of defense out on the open road, and taking care of them properly is essential to both your vehicle's safety and the tires' longevity. Here are just a few steps you can take to extend the life of your vehicle's tires today.
Use the Right Tires: There are many different types of tires, each with specific uses and needs. When you use winter tires in the summer, for instance, they can become damaged and won't work effectively, so always pick the best tires for the job.
Watch Your Driving: Burnouts, short trips, and quick accelerations can all have an impact on the longevity of the tires in your new Buick or GMC vehicle. If you notice your car's tires are wearing down quickly, consider your driving habits.
Keep Them Properly Inflated: The best way to keep your tires strong and cared for is to check the pressure every 30 days or before big trips. This will also help with fuel efficiency and ride comfort.
Get Them Rotated Regularly: Rotating your tires will help to ensure even wear and also protect your vehicle's alignment.
For more information on proper tire care and to get the Buick and GMC service that you and your vehicle deserve, make Woodhouse Buick GMC the Buick Omaha dealership you visit first. Schedule your next service appointment today.