How to Tell Your Vehicle Needs an Oil Change in Omaha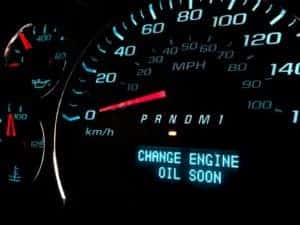 When it's time for the next oil change in Omaha, make Woodhouse Buick GMC the Buick service team you trust to get the job done right. We're all about forming life-long relationships with our drivers, which means we want to ensure your vehicle continues to drive smoothly for a long time to come.
That's why it's easy to get oil change support in Omaha and why we're sharing tips and tricks for taking care of your vehicle's oil change needs.
Signs Your Vehicle Needs an Oil Change
There are many essential reasons to bring your car in for regular oil change service and care. It helps to keep your car safe, saves you on costly repairs, ensures vehicle efficiency, and makes every ride smoother.
While you'll want to bring your vehicle in for oil changes every 3,000-5,000 miles, it's important to be able to recognize signs of damage or wear. Here are a few indications that it's time for an oil change:
Your Vehicle is Emitting Thick Exhaust: If you notice your exhaust is thick, dark, or heavier than usual, that's a good indication that your oil is dirty and needs to be replaced.
Your Check Engine Light Comes On: There are many reasons a check engine light might come on, but low oil levels or dirty oil is one of the most common.
Your Vehicle Vibrates When Idling: If you notice that your vehicle is suddenly vibrating or moving when you're at idle, your oil levels are low and should be refilled right away.
Your Vehicle Isn't as Efficient: Clean oil helps your car to run more efficiently. If you notice your mileage is dropping significantly, it's time to get an oil change.
These are just a few indications that it's time for an oil change. Visit Woodhouse Buick GMC for more information and to get the service you deserve today.