GM Wins "Overall Loyalty to Manufacturer" Award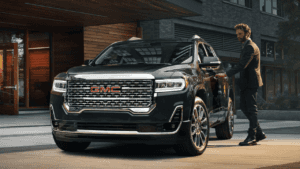 You have lots of options when it comes to GM dealerships. That's why Woodhouse Buick GMC is honored that you've decided to make us the dealership in Omaha you visit for all of your new and pre-owned GM needs. Thanks to your support, we carry award-winning cars, and we hope to continue providing great vehicles and service to your family for a long time to come.
Why Do Drivers Love GM Vehicles?
It's hard to beat GM vehicles. Maybe that's why nearly 70% of buyers continue to return to great GM vehicles year after year, according to the IHS Markit 25th Annual Automotive Loyalty Awards. GM was won the award "Overall Loyalty to Manufacturer", and that's a badge our team at Woodhouse Buick GMC wears with pride.
Here are just a few reasons why drivers love GM models:
We have a large lineup of cars, trucks, and SUVs
They're designed with safety and family driving in mind.
Every GM is capable, with towing, cargo, and seating for whatever you need.
They come equipped with innovative technology and entertainment features.
GM cars are exciting and fun to drive.
Why Visit Woodhouse Buick GMC?
There's more to being a good dealership than just carrying exciting new vehicles for every type of driver. Here at Woodhouse Buick GMC, we understand that it's about forging lifelong relationships and providing support for every step of the car ownership process, from lease deals to Buick service.
Maybe that's why GM won "Overall Loyalty to Manufacturer" for the sixth year in a row this year because GM dealers understand that there's more to great car ownership than the first test drive. At our dealership, you'll also find OEM parts and reliable vehicle maintenance and repair support, personalized financing options, and tools like an easy online payment calculator.
Schedule your next ride at Woodhouse Buick GMC in Omaha today.