Get Oil Change Service in Omaha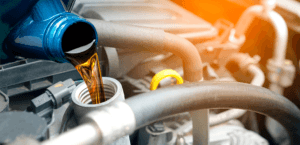 Is it time for your next oil change in Omaha? Woodhouse Buick GMC is the team you can trust to do the job right. We believe in forging lifelong relationships with our Omaha drivers, and there's nothing more important than ensuring your vehicle's safety and longevity than regular oil changes.
Benefits of Regular Oil Changes
Bringing your vehicle in for an oil change may feel like just another errand, but the truth is that there are a lot of advantages and benefits to regular oil changes. Here are just a few:
It Keeps Your Vehicle Cool: Oil is designed to keep your engine cool and prevent overheating. When the oil becomes dirty or old, it can't do its job properly and needs to be replaced.
It Keeps the Engine Lubricated: In addition to cooling the engine, oil works to lubricate moving parts, so nothing scrapes or scratches. Regular oil changes can help to reduce the need for costly repairs.
It Makes the Vehicle More Efficient: Not only will your new GMC Acadia or Buick Enclave be faster off the line thanks to fresh, clean oil, but it will also require fewer fill-ups, as well. A vehicle with proper oil changes is more fuel-efficient, which can save you time and money.
It Maintains Its Value: Are you looking to sell or trade in your vehicle down the line? Regular oil changes and service are key to getting the value that you deserve.
It Makes the Ride Smoother: When a vehicle has regular oil changes, it drives smoother and more comfortably on every ride.
Trust Woodhouse Buick GMC with all of your oil change and Buick service needs in Omaha. It's easy to find parts and schedule service online and we offer rolling specials on cars, parts, and services. Speak with our expert team about your vehicle's next oil change today.